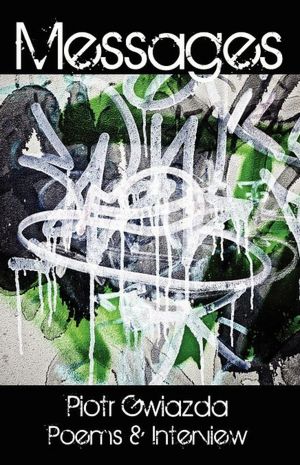 About
Messages: Poems and Interview
, by Piotr Gwiazda
Piotr Gwiazda comments in the interview contained in this book on the title
Messages
:
"The first association will be - perhaps inevitably - with the phone, email, and text messages we send and receive on a daily basis. Also the messages that "pour out of various devices" (as in Muriel Rukeyser's poem): news stories, speeches, alerts, warning labels, traf
fic and weather reports, TV and radio commercials, those targeted ads on Google and Facebook. Communications overload - but with a touch of magic to it. Again, we are both consumers and producers of messages: we post, we blog, we update, we upload. But I was also thinking about the broader connotations of the word. After all, messages can be exchanged in the course of a simple conversation."


Click here to buy this book from Amazon.com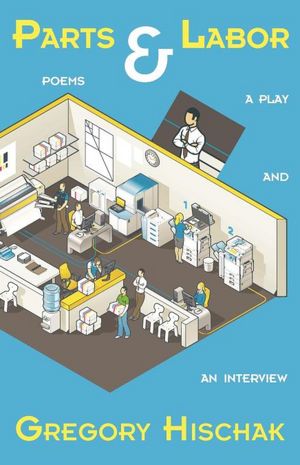 About
Parts & Labor: Poems, a Play, and an Interview
,
by Gregory Hischak
Parts & Labor, Gregory Hischak's new book of poems, includes a stand-out theater piece, Poor Shem: A play for Three Characters and a Photocopier. Hischak is a poet, playwright, musician and graphic artist.
His writing has appeared in Atlanta Review, Bellingham Review, Exquisite Corpse, Green Mountains Review, Mid-America Poetry Review, Third Coast, The Vincent Brothers Review and Zyzzyva among others. His long-running zine Farm Pulp was widely reprinted, and several issues permanently reside in the Cooper-Hewitt National Design Museum and the New Museum of Contemporary Art in New York City. His plays have been staged by the Humana Festival of New American Plays, the Source Festival, Portland Stage Company, City Theatre, and Boston Playwrights' Theatre, among others. His play Crows Over Wheatfield was nominated for a 2008 Pushcart Prize, and his play The Center of Gravity was the 2010 Winner of the Clauder Prize for New England Playwrights. With Robin Clarke he co-curates the Poetry Session reading series in West Dennis, Massachusetts—just down the road from where he lives, works, teaches, and gets by.


Click here to buy this book from Amazon.com.
About
Tough Heaven: Poems of Pittsburgh
,
by
Jack Gilbert
Click here to buy this book from Amazon.com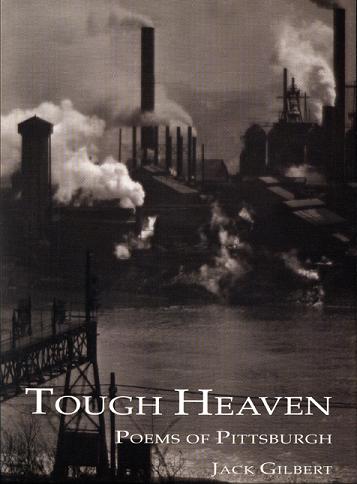 "Jack Gilbert left Pittsburgh as a young man but 'Pittsburgh is still tangled in him,' he tells us as he approaches eighty years of age. He needs the mills 'even though they are gone, to measure against.' He knows luxury by the sound of the trees that filled his childhood. He builds his Pittsburgh again and again:
In Paris afternoons on Buttes-Chaumont.
On Greek islands
with their fields of stone. In beds with women, sometimes,
amid their gentleness…

"In these poems, we see Gilbert using the brutality and beauty of Pittsburgh, its sights and sounds and smells, to make himself into the man and artist he wants to be. In the process, he not only describes the city of his youth—'…brick and tired wood. Ox and sovereign spirit'—but takes the brawling Pittsburgh of rivers, streetcars and railroads, bridges and mills, and transmutes it into 'the mind's steel / and the riveted girders of the soul,' even into himself in old age: 'A cauldron of cooling melt.' Here, the physical becomes the spiritual. The language of steel describes the making of the poet:
The weight of the mind fractures
the girders and piers of the spirit, spilling out
the heart's melt…
"Even as a boy, brooding on carnival women:
He vaguely understood that it was not
their flesh that was a mystery but something on the other
side of it….
"Gilbert takes from the city of his birth and young manhood, Pittsburgh's lushness and severity, its irresistible power, and forges them into the 'tough heaven' of these poems."
Mary Ann Larkin
F
oreword,
Tough Heaven
* * * * *
"Gilbert isn't just a remarkable poet. He's a poet whose directness and lucidity ought to appeal to lots of readers…. Indeed, what's powerful about Gilbert is that he is a rarity, especially in this day and age: the poet who stands outside his own time, practicing a poetics of purity in an ever-more cacophonous world…. No other poet I know captures so well a mind torn between the pleasures of austerity and the fecund, intoxicating powers of abundance. What Gilbert is searching for, poem after poem, are the ideal circumstances where the two intersect, and privation becomes a form of richness…. Gilbert's poems about women can, I think, be thought of as still lifes in the manner of visual arts, where we still find such deliberate, rational acts of paying reverence to female beauty acceptable—even expected. These poems are part and parcel of his larger project: rescuing from the debilitating forces of cynicism a conviction that transcendence can await us in this world."
Meghan O'Rourke
Slate
* * * * *
"…Stunning vistas and masterfully crafted works of heartbreaking beauty…. He forges his own path with writing that is at once intellectually dense and profoundly human. His work radiates with humility and awe, and he brings an intellectual heft that is often lacking in contemporary poetry…. Rather than declare answers, he stubbornly asks how to be human in a world of loss, violence, failures and suffering…. Gilbert has often been called a poet of loss but these poems are rich with having—the Mediterranean sun, catching a fly ball, the lessons of solitude."
Elizabeth Hoover
Los Angeles Times
About
Shubad's Crown
, by Meredith Holmes

(out of print)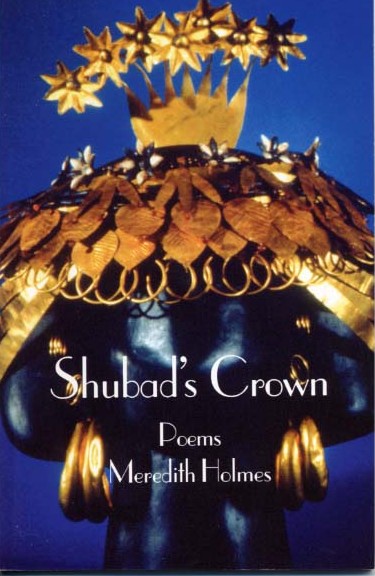 Meredith Holmes' first book of poems,
Shubad's Crown
, was chosen to be part of "Writers and Their Friends," a literary showcase featuring the work of 25 Northeast Ohio writers. The event, held every other year, is sponsored by the Poet's and Writer's League of Greater Cleveland. Her work is also included in Garrison Keillor's anthology

Good Poems
.
Keillor also featured one of Holmes' poems from Shubad's Crown, "In Praise of My Bed", on his NPR show The Writer's Almanac .

IN PRAISE OF MY BED
At last I can be with you!
The grinding hours
since I left your side!
The labor of being fully human,
working my opposable thumb,
talking, and walking upright.
Now I have unclasped
unzipped, stepped out of.
Husked, soft, a be-er only,
I do nothing, but point
my bare feet into your
clean smoothness
feel your quiet strength
the whole length of my body.
I close my eyes, hear myself
moan, so grateful to be held this way.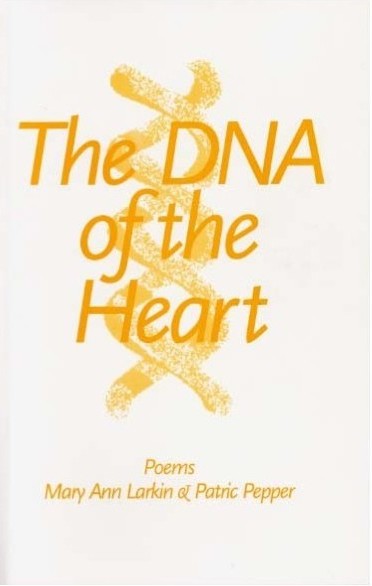 The DNA of the Heart
, by Mary Ann Larkin and Patric Pepper
(out of print)